Here at PA', April is synonymous with two festivals: Roadburn and SWR Barroselas Metalfest. This year, these two considerably different congregations share a common thread: they shall all suffer at the hands of the so-called Icelandic black metal scene. That some of the most anticipated performances on both festivals stem from such unlikely origin begs the question, what is it about the extreme metal scene in that remote northern island that has us so excited about it?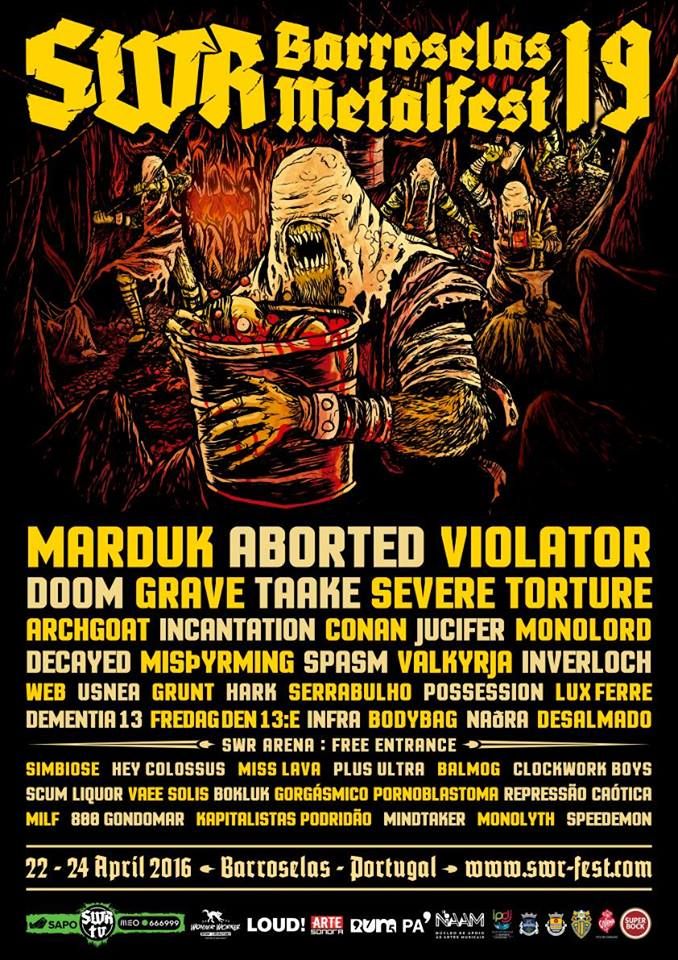 Judging by recent interviews given by members of Misþyrming (e.g. in Terrorizer #268), there are two milestones shaping the scene these days: the release of Svartidauði's great "Flesh Cathedral" by Terratur Possessions back in 2012 and the establishment of Vánagandr in 2014, a cassette label founded by members of Misþyrming and other projects to release their own material (releases in different formats have been handled by other labels such as Terratur Possessions, Fallen Empire or more recently Signal Rex).
Now, it's not that frozen places with a reputation for good life standards haven't produced good black metal scenes in the past, quite the contrary actually, but Iceland barely boasts more than 300 thousand inhabitants. From purely statistical grounds, it seems like a way too small sample to justify this amount of weird people with a passionate drive to write this kind of music and to do so at this level. Alongside the two aforementioned main names flourish the likes of Abominor, Carpe Noctem, Grafir, Mannveira, Naðra, Nornahetta, NYIÞ, O, Sinmara and Skáphe. To be fair, it's not as if there aren't plenty of common members amongst these names but that's true for any decent underground scene and you wouldn't be hard-pressed to find cities with a bigger population than Iceland and a black metal scene without half the interest (do this exercise and you'll probably reach double digits before the first hesitation). It is not because of the unlikely origin that the scene is interesting, but because of it's bursting with activity centred around black metal and it's its authors getting to try new things creatively with different outfits whilst collaborating with different people at every stage.
With the point of origin out of the way let's move to more a more interesting discussion and that is the music itself. Last year's "Söngvar Elds Og Óreiðu" by Misþyrming is as good a debut as anything you can conceive as their performances at both SWR and Roadburn will surely attest. The other act visiting both festivals is Naðra, whose first full-length "Allir Vegir Til Glötunar" released earlier this year is a bit of a subtle issue. The structures and riffs while well written are reasonably straight-forward but the way in which they weave a tapestry for Ö's maniacal screams to resonate makes the whole thing quite remarkable.
In Roadburn things get unsurprisingly bigger. There, Misþyrming are artists in residence and are set to not only play their debut album in its entirety but a second set entitled "Algleymi" in which they will exclusively debut new material. Moreover, they will be joined by not only Naðra, but by the blackened post-punk of Grafir and by the amazing ritual drones of NYIÞ (whose bandcamp handle has gotta be one of the best around). The climax of this residency will however be the Úlfsmessa, a ritual mass played by the four aforementioned bands which has taken place in the last two editions of Eistnaflug and will occur for the first time outside of Iceland this Friday. Judging by the reviews of the first two editions of this special set, we are in for one of those special occasions that remains a talking point between Roadburners for years to come.
Regarding Roadburn, Misþyrming will play the Het Patronaat on Thursday April 14 (Algleymi set) and the Green Roon on Saturday April 16 ("Söngvar Elds Og Óreiðu" set), while Grafir, NYIÞ and Naðra are Extase bound on Thursday, Friday and Saturday respectively. The Úlfmessa shall close the Friday on the Het Patronaat. As for SWR Barroselas, both Misþyrming and Naðra are set to take the stage on on Friday April 22.