The Dutch black metal scene keeps on amazing us. In a year where we've already been presented with fine releases from artists such as Fluisteraars, Gnaw Their Tongues, Terzij De Horde and Wederganger, we're proud to now present you "Deluge", the new EP of the Nijmegen based  Lubbert Das.
As we sat down with the trio, one of the obvious talking points was figuring out the origin of the name, which turns out to be "a person's name" as bassist O explained "It's from this painting from Hieronymus Bosch [reproduced below], a medieval Dutch painter. The guy who's head is being cut open is the Lubbert Das. The text says «Meester snyt die keye ras / Myne name Is lubbert Das», which means «Master cut away the stone / my name is Lubbert Das». It's medieval symbolism, the stone was a "devil's stone" that you had when you were mad. The powerful thing about the painting is that the guy cutting away the stone has the funnel hat which is also symbolic for being mad. Also, on the head of the Lubbert Das there's not a stone but a flower, so there's a lot of speculation about the symbolism".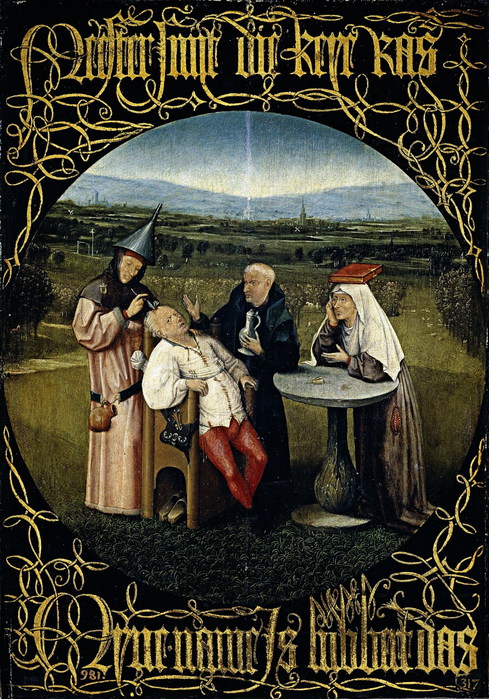 Having understood the meaning behind the name, we asked them about their origins, only to be confronted with a classic story, as drummer J explains that back in 2010 "I was in school, thinking about starting a black metal band so I asked a classmate, R" [guitarrist]. O soon joined and after some frantic first few months they released their first demo "Keye", out of which R says "the first three songs were written in four rehearsals".
The curious upside down church gracing the demo artwork turns out to be a small one from Nijmegen. "We always hung out at O's place and he was living around the corner from that church. We spent so many nights and days up there together, looking at this church and walking by it. It was our annoying church which we wanted to turn upside down" explains J, adding amidst laughter that "We also tried to do vocals in that church". As you can guess that didn't end up that well.
When you see the trio in a live setting, one of their unusual feature is that all three members have screaming duties, something that dates back to the first few rehearsals, O explains, "it just worked that way because J and I can do that and R can do the deep growls. It wasn't really planned, just what came out". Another noticeable point is that, thankfully, there are no speeches towards the crowd during their sets, which as R told us is something that happens for a reason, "(…)with black metal if you like it you do it by yourself. We don't speak on stage, we just try to make it into one moment and don't interrupt it."
With that sort of an outlook towards live performances it's perhaps not surprising that the two songs making up the new EP grew over these last few years on that same setting. "We played these songs live a lot of times before recording them, so they changed a lot over the years" explains O, upon which J elaborates, "even whole riffs changed. Sometimes live is how you really get that feeling about how you want to share your music". The truth is that "Deluge" presents much longer songs than "Keye" and the years of developing them could be the key to it, as O explains, stating that "at the beginning we were working really fast and at first you are still looking for how you want to make music, so in the demo we were still a bit all over the place. I like it but it has more different stuff going on".
The whole importance of the live aspect to their music does not stop at their gigs, as the instruments were also recorded live in their rehearsal space. As for the vocals, there's an interesting story behind their recording, as O told us "There's a big factory in the west of Nijmegen which had been empty for quite some time and over the last few years there's all kind of stuff going on there, including the Oersoep brewery – they brew fucking good beer [yes, they fucking do] – and a good friend of ours works there.  She told us about this really big basement they had, which was totally dark except for some tiny window. It was empty and smelled like shit, perfect for what we wanted to do. The vocals you hear on the EP, all the reverb is from this place." or as J summarises while laughing, it was "just us drinking and recording".
With "Deluge" being released by their own label Haeresis Noviomagi, meaning "heresy from Nijmegen", which according to O "just seemed like a good idea to just do it yourself, have full control over everything and make as much copies as we want to share on shows". It's not like there is no appreciation towards working with outside labels, as he continues "we had releases with different bands on labels and it's always an honour when people take the time to do stuff like that for your band, but on the other hand you get a few copies, you sell them to your friends and you're done, you don't have anything with you when you play a show". With the first two releases being "Deluge" by Lubbert Das and the debut of Turia (keep an eye on this space to see what that's all about, we promise you won't regret it), other plans so far include only the release of eventual solo records and other musical endeavours by the members of both bands, or as R explains it "we are not planning to release other bands or anything".
Another aspect facilitated by the label is the choice of artwork and format, "it's the same reason why we want to release stuff on tape or vinyl", O explains, "it just suits what we are trying to create better than a cd or something digital. We do put the music on the internet because it's easy, but it's not the complete package. To listen to it on tape or vinyl and having the artwork with you, that's the proper way." We can trace the importance of the artwork back to what drives one as a fan, which R articulates "I always imagine the artwork whenever I put an album or a song. If I know the artwork from the album, I always link them. When you see people taking that time you know they are serious about their music". This is not new and it was already reflected on the first tape, as O explains that they "spent a lot of time choosing the right paper to print the tape cover on. It's a bit stupid but it's our thing. You should take your stuff seriously, otherwise no one else will."
As a Cirrhus LP is played over and over again on the stereo, the conversation also reverts back to previous topics. With the live shows, the attitude towards them is pretty much an extension of what they were telling us about "we try to make every show into a special moment and get into that place" O explains, adding immediately after that "most of the time its a small audience, so by the first song I know every face in the audience and that makes it personal. They are strangers but it's still really personal, it's definitely a cathartic moment to let go and express yourself in this way to a small amount of people whose faces are right there in front of you"
We would be remiss however, to think that this happens in a vacuum. As we said in the beginning, "Deluge" is one among many pretty good black metal records to have come out this year and that's not counting last year's offerings of Laster and Nihill just to mention the two of them. That's not something that eludes these guys in, as O comments that "bands like Fluisteraars, Wederganger, and Laster, they're all doing really nice stuff on their own terms and doing something different in black metal. We consider ourselves pretty lucky that we can be a part of a group of bands and people doing stuff like that. There's a big sense of just pushing boundries, maybe not in terms of musical extremes, but in making good sounds and performing good live shows that are not infested with bullshit", with R adding that "it's nice to be in a scene when you actually know the people instead of just knowing them superficially. They're friends of yours instead of just some guys who also play in bands."
We finished by asking R how he thinks this rather active and creative Dutch scene came about and got by a way of answering a sentence that probably explains how a lot of our favourite bands came to be. "It's just that certain people that fit really well together got together by accident."